We are reposting our reporting on Georgia's Statewide Business Court's Developments in 2022, on this single page, as all Business Court Blog posts after February 2022 are no longer available on the dates originally posted.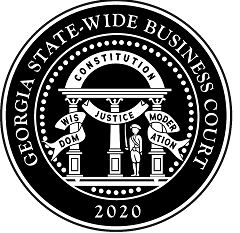 These reposts are numbered and reposted below in chronological order:
Judge Davis to Leave Georgia's State-wide Business Court
Georgia's Administrative Office of the Courts issued a press release on June 22, 2022 that Judge Walter Davis will be leaving the State-wide business court.  Judge Davis will continue to serve until his successor is sworn in.
As the first State-wide Business Court Judge, Judge  Davis has been a dynamic force in establishing this new constitutional court in Georgia, including, among other things, drafting its procedural rules and traveling the state to educate judges and lawyers about the new court.  Judge Davis was appointed in July 2019 and officially began his term on January 1, 2000.  The court opened its doors in August 2020.
We recognize Judge Davis' tremendous efforts with this business court, and wish him all the best in his future endeavors.
New Appointment to Georgia Statewide Business Court Bench
In light of current Georgia Statewide Business Court Judge Walter Davis' decision to step down from the bench, Governor Kemp has appointed Judge William Hamrick, III to become the next Statewide Business Court Judge. The press release on Judge Hamrick's appointment can be found here.
Judge Hamrick currently services on the Coweta County Superior Court.  This article discusses Judge Hamrick's nomination.  As observed in that article, "The choice is subject to approval of the joint judiciary committees of the Georgia House of Representatives and Senate."
Judge William Hamrick appointed as new Georgia State-wide Business Court Judge
On September 14, 2022, Georgia's House and Senate Judiciary Committees confirmed Judge William Hamarick as the next State-wide Business Court Judge.  See this article.  Judge Hamrick will be succeeding Judge Walter Davis, this business court's first judge.
Posted by Lee Applebaum