The Lord Chief Justice of England and Wales has issued his 2018 annual report, including observations on the Business and Property Courts of England and Wales.  [Note: Scotland and Northern Ireland have their own specialized commercial court programs.]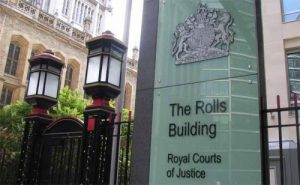 The report cross-references Ministry of Justice statistics used to highlight the international aspects of litigation in the Business and Property Courts, with a particular focus on the Commercial Court and the Patents Court.
The Commercial Court is a specialized court among the Business and Property Courts. It hears complex national and international business disputes, involving: disputes over contracts and business documents; insurance and reinsurance; sale of commodities; import, export and transport (carriage) of goods; issues relating to arbitration awards; banking and financial services; agency and management agreements; and construction of ships.
Through the first six months of 2018, the Commercial Court had 103 cases solely involving UK parties, and 346 cases where some or all of the parties were registered outside the UK. This includes 189 cases where all of the parties were registered outside the UK. It is clear that a majority of Commercial Court cases have an international component.
The London Circuit Commercial Court, formerly known as the Mercantile Court, has some overlapping jurisdiction with the Commercial Court. During the same six-month time period through June 2018, it had 60 cases where all parties were registered in the UK, and 64 cases where one or more parties were registered outside the UK.
The report's emphasis on the Business and Property Courts as reliable forums for international litigants also reflects on these courts' domestic value.  The report further makes clear these business and commercial tribunals are of broad economic and social importance within England and Wales, as a venue for English and Welsh citizens seeking fair and efficient dispute resolution.
Thus, e.g., the Lord Chief Justice observes:
"The Commercial Court maintains its international reputation as a destination of choice for international litigants.  About a third of its work arises out of arbitrations, reflecting London's importance as a centre for international dispute resolution."
"The standing of our civil courts, of our legal profession and the very high international reputation of the judiciary make a significant contribution to the UK economically by attracting high value work to London."
"The Government recognises the importance of this aspect of the work of the civil courts to the economy, and even more so in a post-Brexit world."
"The Business and Property Courts in Birmingham, Bristol, Cardiff, Leeds, Liverpool, Manchester and Newcastle are central to ensuring parties have their dispute heard conveniently to them, no matter the size of the claim."
This recent article provides an explanation for international litigants' confidence in the London based business courts.
Posted by Lee Applebaum