This case came before Judge Johnston of the Delaware Superior Court's Complex Commercial Litigation Division (CCLD) on a Motion to Dismiss.
Czap worked for Continental, with authority to access Continental's account at TD Bank. Czap used her position to embezzle funds from Continental, utilizing ACH services to move funds from Continental's TD account to her own account at TD. Eventually, she was caught and convicted.
Prior to her embezzlement, Continental and TD entered a Master Agreement that addressed security issues. Czap was an authorized user under the terms of that Agreement. Further, the Agreement made it Continental's burden to prevent, monitor, investigate, and report fraud.
The Agreement provided that its security procedures were commercially reasonable, that Continental was solely responsible for ensuring compliance, and TD could not be liable if a loss resulted from breaching the security procedures so long as the bank "substantially complied" with those procedures. Further, the bank could only be liable for gross negligence, willful misconduct or bad faith, and not mere negligence. In fact, the court dismissed the original complaint in negligence under this limitation, but allowed Continental to file an amended complaint.
In the amended complaint, Continental brought claims for gross negligence for TD's alleged failures to: monitor ACH transactions, provide adequate account statements, and to monitor Continental's and Czap's accounts. There was also a UCC claim for failing for employ commercially reasonable security procedures. The bank successfully moved to dismiss all of these claims.
Judge Johnston rejected the argument that the bank's conduct fell outside the UCC's parameters, and thus Article 4A governing ACH transfers controlled. There was no additional duty on the bank because of any special relationship, fiduciary duty or contractual duty that added to the bank's UCC obligations. Further, Czap was an authorized user, and case law concerning a bank's additional duties arising from the conduct of an unauthorized user were inapposite. Nor was this a case where the account was opened negligently in the first instance.
Next, the Court found there was no actionable gross negligence. Judge Johnston set out definitions of gross negligence, and found the allegations in the amended complaint before her were no different that the allegations in the original negligence action she ruled barred under the contract's liability limitation language. In essence, the plaintiff had simply relabeled the same conduct as grossly negligent after the court had made clear negligence claims could not survive the contract's language excluding liability for mere negligence.
In conclusion, Judge Johnston stated: "The Court finds that the Amended Complaint repackages simple negligence claims as gross negligence without additional or qualitatively different factual allegations. The Court previously held that the simple negligence claims are barred by the parties' contracts, and gross negligence claims must be asserted pursuant to relevant UCC provisions. The Court finds that Plaintiff has failed to assert claims establishing a prima facie case of gross negligence. Article 4A of the UCC governs ACH transactions and displaces the common law claims alleged in this matter. Further, the UCC one-year statute of repose applies."
Date of Decision: December 10, 2018
Continental Financial Company v. TD Bank NA, Superior Court of Delaware, Complex Commercial Litigation Division C.A. No. N17C-07-002 MMJ CCLD (December 10, 2018) (Johnston, J.)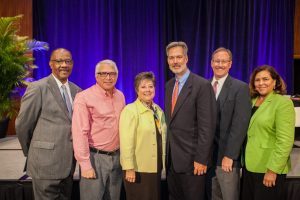 2016 ABA Section of Business Law Annual Meeting: (L-R) Judge Clifton Newman (South Carolina, Co-Chair of ABA Section of Business Law's Judges Initiative Committee), and Section of Business Law's Business Court Representatives: Judges Jerome Abrams (Minnesota), Mary Miller Johnston (Delaware), Timothy Driscoll (New York), Christopher Yates (Michigan) and Denise Owens (Mississippi).
Posted by Lee Applebaum