Between 2014-2017, Justice Timothy S. Driscoll of the Nassau County, New York Commercial Division authored a series of articles on Commercial Division rules and practices. These instructive articles were written for the ABA Section of Business Law's Business Law Today.  Judge Driscoll also served as a Business Court Representative to the Section of Business Law, in which capacity he participated in numerous national panels addressing commercial litigation and practice from the judge's perspective.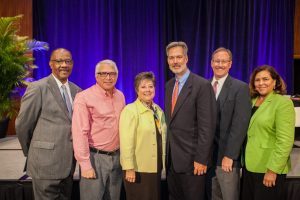 2016 ABA Section of Business Law Annual Meeting: (L-R) Judge Clifton Newman (South Carolina, Co-Chair of ABA Section of Business Law's Judges Initiative Committee), and Business Court Representatives: Judges Jerome Abrams (Minnesota), Mary Miller Johnston (Delaware), Timothy Driscoll (New York), Christopher Yates (Michigan) and Denise Owens (Mississippi).
Here are links to Judge Driscoll's three Business Law Today articles:
KEEPING CURRENT: The New York State Supreme Court Commercial Division: Past, Present, and Future (2014). This article addresses developments in jurisdictional monetary thresholds, expert disclosures (akin to federal disclosures), limiting privilege logs, limiting interrogatories, selective mandatory mediation, and accelerating business court adjudications.
KEEPING CURRENT: Recent Developments in the Commercial Division of the New York State Supreme Court (Part Two) (2015). This article addresses earlier assignment to the Commercial Division, limiting depositions, putting an end to boilerplate discovery responses, non-party electronic discovery, resolving disclosure disputes, and staggering court appearances and sanctions.
The Time Has Come (Accompanied by Affidavits): A Method for More Expeditious Trials in Commercial Cases (2017). This article addresses two Commercial Division innovations: "(1) Permitting the judge to require direct testimony by affidavit, in lieu of live testimony, in non-jury proceedings, and (2) Permitting the judge to limit each party's total number of trial hours."
The Commercial Division has also created a video on the court's history, development, and future. Judge Driscoll is one of the speakers.
Posted by Lee Applebaum