A new business court is under consideration in Wyoming.  A bill to create the "Wyoming Chancery Court" was recently put forward in Wyoming's Senate (Senate File No. SF0104). This is reportedly part of an effort to make Wyoming the "Delaware of the West".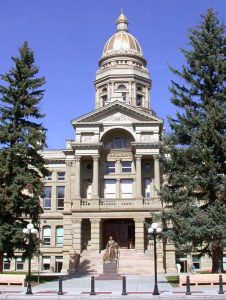 The bill offers considerable detail.
The chancery court's jurisdiction is designed to handle both internal business disputes and commercial cases between adverse entities.  Its goal is "the expeditious resolution of disputes involving commercial, business, trust and similar issues." To achieve this end, it "shall employ nonjury trials, alternative dispute resolution methods and limited motions practice and shall have broad authority to shape and expedite discovery as provided in the rules adopted by the supreme court to govern chancery courts." (See Section 5-13-115(a)).  The proponents clearly want a system that has an array of methods from which a chancery judge can choose in finding the most efficient and effective paths to resolution.
Under Section 5-13-115(b), the Wyoming Chancery Court's proposed jurisdiction would include "actions for equitable or declaratory relief and for actions where the prayer for money recovery is an amount exceeding fifty thousand dollars ($50,000.00), exclusive of claims for punitive or exemplary damages, prejudgment or post judgment interest, costs and attorney fees …." Including money damages takes the court beyond traditional equity jurisdiction, and adds purely commercial disputes for money damages.
The court's jurisdiction is explicitly limited to over 20 specified case types. (See Section 5-13-115(b)), including, e.g., breach of contract, breach of fiduciary duty, UCC actions, internal corporate disputes, legal and accountant malpractice in commercial cases, shareholder derivative actions, dissolutions, restrictive covenants, trade secrets, and environmental or commercial insurance coverage disputes.  This jurisdiction defining list of case types, equally encompassing cases at law or equity, shows the proposed Wyoming business court follows a post-1993 business court model. Thus, if enacted as law, Wyoming's Chancery Court will be more akin to the business court model used in New York, Philadelphia, or Boston, than to Delaware's Court of Chancery.
Moreover, the proposed court's jurisdiction is defined by case type only, and does not appear to include any additional requirement that the case be complex, a criteria in some business courts.
The proposed law includes many other significant details, addressing among other things: judicial term limits, salary, selection, and qualifications; court finances; and establishing a clerk's office.
As to implementation, the Wyoming Supreme Court is given management and supervisory powers over the Chancery Court, and is directed to establish procedure and regulations "for the effective and expeditious resolution of disputes," which is to include "the Wyoming Rules of Civil Procedure for the Chancery Courts." (See Section 5-13-104) Among many other things, these new rules are to address orders to mediation and referrals to special masters, again emphasizing the wide array of methods this new court is empowered to use in achieving case resolutions.
On February 27, 2019, the bill, with some amendments, was adopted as law.
Posted by Lee Applebaum