The ABA's Section of Business Law has posted four podcasts in connection with its publication of The Business Courts Benchbook. A summary of the first podcast can be found here, discussing the nature of business courts, including a link to that podcast. A summary of the second podcast, addressing discovery, can be found here, likewise with a link to the podcast.
You must be a Section of Business Law member to access these podcasts.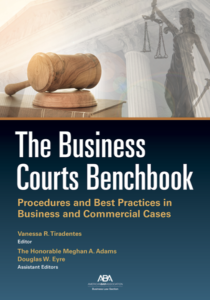 A link to the third podcast, on court adjuncts and appointments, can be found here. In this podcast, Michigan Business Court Judge Christopher Yates addresses, e.g., how courts select adjuncts and appointments, mediator and receiver qualifications, and the use of special masters in discovery.  Judge Yates has long been involved in the Section, participating on numerous panels over the years and serving as a Business Court Representative. He is currently co-chair of the Section's Judges Initiative Committee. In this podcast, he also addresses how the use of Court adjuncts and appointments has changed in light of the COVID-19 pandemic.
The fourth podcast can be found here.  This is a practical discussion on using ADR as a complement to business courts. The panel includes former Delaware Vice Chancellor Donald J. Parsons, Jr., retired Orange County, California Complex Litigation Judge Gail Andler (now serving as a private neutral with JAMS), and current Delaware Vice Chancellor Joseph R. Slights, III. These highly experienced and insightful judges and skilled mediators discuss challenges in mediation, timing considerations, term sheets and the types of proposals used by mediators, among other topics.
Posted by Lee Applebaum