Philadelphia's Court of Common Pleas (Pennsylvania's First Judicial District) issues annual reports on all aspects of the Court's operations. This includes, among other things, a general overview of the Commerce Court's activities and its case statistics.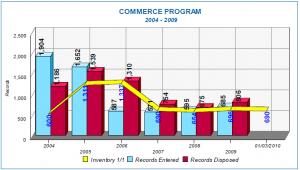 Graph of Commerce Court filings, dispositions and  inventory from 2009 Annual Report
For example, the most recently issued Report (2017) states (page 34) that the Commerce Court: "continued to provide an efficient process for the adjudication of complex commercial litigation; to assure judicial expertise in the handling and deciding said litigation; and to develop a body of case law on commercial issues resulting in greater predictability for business transactions."
"During 2017, 1,730 matters were assigned to the Commerce Court. Of that number, 1,289 (75%) were Sequestration Petitions and 441 (25%) were commercial cases. By December 31, 2017, 639 commercial cases and 1,202 sequestration cases were disposed or otherwise resolved. Overall, ninety-six percent (96%) of cases filed with Commerce Court were disposed of within 25 months of the date filed. By the close of the calendar year, 371 Sequestration Petitions and 570 commercial cases were listed as 'Pending' within Commerce Court."
The report includes a chart showing Commerce Court filings, inventory of pending cases, and dispositions for the years 2010-2017, and a second chart breaking out the cases in some more detail, distinguishing the traditional commercial cases and sequestration matters, from 2014-2017. Both charts can be found at page 33 of the 2017 report.
[Note: Since the fall of 2013, the Commerce Court handles sequestration petitions, typically brought by the City of Philadelphia or Philadelphia School District. The petitions aim at seizing income against tax liens on delinquent properties. The Commerce Court hears these petitions in addition to the business and commercial matters defined in its enabling jurisdictional order.]
Here are some other annual reports from earlier years that include Commerce Court statistical information and general developments:
First Judicial District 2006 Annual Report (see pages 51 and 54)
First Judicial District 2009 Annual Report (see pages 57-58, 115)
First Judicial District, Trial Division Civil 2013 Report (see page 5 of 11 in report and page 2 in chart section)
First Judicial District 2015 Annual Report (see page 26)
First Judicial District 2016 Annual Report (see pages 26-27)
First Judicial District 2018 Annual Report (see pages 24-29)
A list of other available Annual Reports can be found here
Posted by Lee Applebaum