This case involves a financial institution bond issued to a brokerage firm.  Judge Nina Wright Padilla's opinion in Janney Montgomery Scott, LLC (the Firm) v. National Union Fire Insurance Company (NUFI), can be found here.
A Firm employee ran a Ponzi scheme on Firm clients. The employee used the Firm's infrastructure and some accounts held at the Firm to run her fraudulent scheme. She funneled money from the clients' Firm accounts, through private accounts, and eventually to a Firm account she set up for a fraudulent entity used to execute her scheme.  There is no allegation that the Firm had any awareness of this scheme.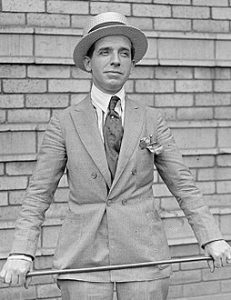 Charles Ponzi
Still, the defrauded clients brought claims in arbitration against the Firm. The Firm paid those clients through settlement or arbitration awards. In addition, the Firm incurred considerable legal fees and costs in defending those claims.  All of this added up to nearly $3 Million.
The Firm sought reimbursement under the bond for its employee's dishonest and fraudulent conduct, and brought action against NUFI.  Both parties moved for summary judgment.
There is potential coverage for third party damage claims.
The first issue was whether the sums paid to third party clients were direct losses to the Firm, as defined under the bond language. The court ruled that under some circumstances the bond could cover a broker's payments to third parties caused by an employee's fraudulent and dishonest acts. The court could not determine on summary judgment, however, if those circumstances existed, and allowed the case to proceed on this issue.
There is no coverage for defense fees, costs, and expenses.
The court did grant NUFI summary judgment on the issue of defense fees and litigation expenses. The bond expressly did not cover fees, costs, and expenses incurred in legal proceedings, and the court rejected the Firm's argument that arbitration is not a legal proceeding. Any exception to this limitation under the bond language did not exist, as NUFI did not exercise its discretionary right to assume the defense. Thus, the Firm could not recover for its legal fees and expenses in defending the clients' arbitration claims.
There is no coverage for lost investment opportunities.
The broker also sought coverage for lost income damages paid to clients, based on the clients' inability to use their own funds for non-fraudulent investments. However, the bond expressly excluded coverage of a third party's claims for lost potential income, and summary judgment was granted on that issue as well.
The issue of late notice must go to trial.
Two individual coverage denials were based on late notice. Late notice could not be determined on summary judgment, however, and these issues were allowed to go to trial.
There is no separate fraud claim outside of the bond claim.
Finally, the broker brought a fraud claim for the insurer's refusal to pay on the bond. The court granted NUFI summary judgment under the gist of the action doctrine. If any coverage exists, it only exists because of the bond's express terms, and not a broader social duty. Therefore, the gist of the action lies in contract, not tort.  [Note: There is no Pennsylvania statutory bad faith claim applicable to bonds, as there is for insurance.]
Posted by Lee Applebaum