In 2017, Wisconsin's Supreme Court established the Commercial Docket Pilot Project in the Waukesha County Circuit Court (within the Third Judicial District, bordering Milwaukee County), and in Wisconsin's Eighth Judicial District (which includes Green Bay in Brown County, among other cities and counties).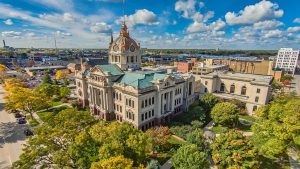 Brown County Courthouse, Green Bay
Waukesha County Circuit Judge Michael Aprahamian gives a thorough overview of Wisconsin's Commercial Docket Pilot Project in this article, and the Commercial Docket's website can be found here.  The Commercial Docket has also come to be known as the Business Court.
As of April 1, 2019, business and commercial litigants in other Wisconsin counties whose cases involve large claims can jointly petition to have their actions administered within the Commercial Docket. The "Guidelines for Transferring a Case to the Commercial Docket" can be found here.
These new procedures are a clear indication that the Commercial Docket has been a plus. This is consistent with Wisconsin Chief Justice Patience Roggensack's October 2018 State of the Judiciary comments on the Wisconsin Business Court, observing that a number of Business Court cases were resolved in one-third the time expected on the normal docket.
Transfer is at the discretion of Third and Eighth Circuit Chief Judges, who will decide which specific Business Court receives a case, if that case is accepted onto the docket.  A case is only eligible for transfer if it falls within the defined mandatory jurisdiction of the Commercial Docket. Cases potentially subject to the Commercial Docket's discretionary jurisdiction are not eligible for transfer.
Again, all parties must agree to the transfer and jointly petition for inclusion. They must also agree to use Commercial Docket specific forms and procedures. By submitting the transfer petition, the parties further "agree that all proceedings will be conducted in the county where the case is assigned … except that if the case proceeds to trial, the trial will be conducted in the county where the case was originally filed."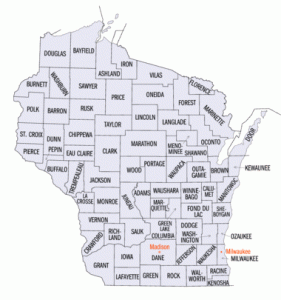 Permitting the Waukesha and Eighth District Business Courts to serve counties beyond their borders is reminiscent of developments in Massachusetts and Tennessee. Requiring the trial to take place in the county of origin is also similar to the riding-the-circuit nature of some statewide business courts that are not physically located in every individual county courthouse.  For example, in the North Carolina Business Court, pre-trial matters typically take place where the business court judge is located, but jury trials take place in the county where the case was filed; though non-jury trials can potentially be heard in either location.
We looked forward to continued developments in Wisconsin's Business Court.
Posted by Lee Applebaum