With one hiatus, there has been a Commercial Docket program  in the Cuyahoga County (Cleveland) Common Pleas Court since 2009.  See this earlier blog post.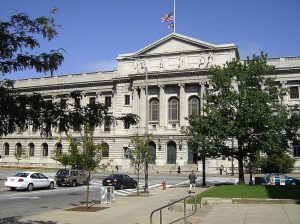 Cuyahoga County Courthouse Attribution: 
Mikerussell at en.wikipedia
Longstanding Commercial Docket Judge Nancy Fuerst ended her time with the Commercial Docket at the end of 2022.
Following Judge Fuerst, Judge John P. O'Donnell joined the   Commercial Docket in 2023.  Judge O'Donnell is one of four Cleveland Commercial Docket Judges.
The court's notice of Judge O'Donnell's appointment can be found here.  As this article points out, Judge O'Donnell had previously served on the Commercial Docket.
Posted by Lee Applebaum