Today's post on Tennessee's Business Court Docket Pilot Project (Business Court) follows up on using  a single county's business court to serve litigants across the state. In the Tennessee experience, however, the central business court is a springboard for expansion into other counties, and potentially a national model for creating new business courts.
In yesterday's post on the Suffolk (Massachusetts) Superior Court Business Litigation Session, we observed that the Chief Justice of the state's trial court system used an administrative order to create a statewide business court, solely located in a single major city. The key component in making this single court into a statewide court was permitting the voluntary use of venue waivers.
Similarly, Tennessee's Business Court was created in 2015, by order of Tennessee Supreme Court Chief Justice Sharon G. Lee, and was solely located in Nashville, Davidson County.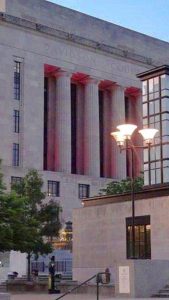 From its inception, cases filed outside Davidson County could be transferred into the Business Court, subject to the Chief Justice's discretion, if "all parties" filed a motion to transfer and executed a "Joint Consent and Waiver of Venue Form." This use of voluntary venue waivers and joint consent to create a central business court carried forward into the Business Court's second phase, set out in Chief Justice Jeffrey S. Bivins' December 22, 2017 Administrative Order.
While parties can still request a transfer into Nashville's Business Court if they meet the eligibility criteria, the Order adds an option that expands the Business Court's rules and practices into other county courts. This is through the specialized assignment of a single county judge to act as a Business Court judge. Thus, "at the request of the trial court judge [outside Davidson County], the Chief Justice may appoint a Senior Judge to hear an eligible Business Docket case in the venue in which it was filed."
It is evident from the 2017 Order itself, and later developments, that this Senior Judge model is only a step toward creating more formal business court dockets in other Tennessee county circuit courts. In May 2018, Tennessee's Administrative Office of the Courts (AOC) received a grant from the federal State Justice Institute (SJI) to work with the National Center for State Courts (NCSC) "to develop and implement a training curriculum to assist in expanding business court dockets to other areas of the state…."
This federal grant is not limited toward expansion in other Tennessee county courts, but the training curriculum is also intended "to assist other states in creating their own business court dockets." As the AOC director states: "'With this grant, the NCSC will use our overwhelmingly successful pilot project to create a blueprint for other states embarking on the creation of their own business court dockets.  We are thankful that the SJI recognized this need for collaboration, and we hope this will become a regular way to share innovative ideas across state lines and across branches of government.'"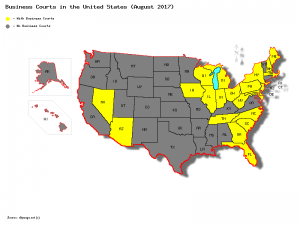 This map, prepared by Lee Applebaum in August 2017, depicts states with business/commercial court dockets, either statewide, in some but not all jurisdictions, or in a single city or county (highlighted in yellow). The map remains current. States with dedicated complex litigation programs that encompass business and commercial cases as only one type of complex case subject matter on their dockets, such as California, Connecticut, Minnesota, and Oregon, are not highlighted on this map.
The detailed May 2018 statement describing the SJI grant and its goals, and an overview of Tennessee's Business Court experience, can be found here.
PRACTICE AND JURISDICTION
The Tennessee Business Court's homepage includes links to administrative orders, judicial opinions, rules and practice guidelines, and numerous reports on this carefully thought out and well planned program.
Details covering all aspects of the Business Court are in this court prepared 2017 Guide to the Tennessee Business Court.  This document thoroughly sets out the Tennessee Business Court's jurisdiction, practice rules, case management techniques, and use of technology.
The Guide also explains changes made from the original 2015 rules and procedures. Significant changes include requiring a jurisdictional minimum of $250,000 (instead of $50,000), eliminating the unused trial on stipulated facts provision, and changes in case types subject to Business Court jurisdiction.
On this last point, Business Court eligible disputes include cases meeting one or more of the following case descriptions, found in Guide Section 2.1(c):
(1) relates to the governance or internal affairs of businesses (i.e., corporations, limited liability companies, general partnerships, limited liability partnerships, sole proprietorships, professional associations, real estate investment trusts, and joint ventures), including the rights or obligations of shareholders, officers, directors, partners, and members, or the liability or indemnity of officers, directors, managers, trustees or partners;
(2) involves claims of breach of fiduciary duty or statutory violations between businesses arising out of business transactions or relationships;
(3) involves a commercial class action;
(4) arises from technology licensing agreements, including software and biotechnology licensing agreements, or any agreement involving the licensing of any intellectual property right, including patent rights;
(5) involves antitrust, trade secrets, trademark law, or securities-related actions;
(6) involves claims that present sufficiently complex commercial issues that would have significant implications for the larger business community, including but not limited to cases with subject matter that technically would render the case "Excluded" pursuant to Section 2 of the Business Court Docket Eligibility Criteria, as recommended by the Business Court Judge and as determined within the discretion of the Chief Justice.
There are also a set of excluded case types, a few of which have inclusion qualifiers.  Some of these excluded case types are:
(b) professional malpractice claims;
(c) commercial property disputes….;
(d) employee/employer disputes, except where pendent or incidental to the matters listed in Section 2.1(c) above and sufficiently complex business issues are presented;
(f) the sole claim is a professional fee dispute;
(i) claims involving breach of contract, fraud, or misrepresentation, except when pendent or incidental to matters listed in Section 2.1(c) above and sufficiently complex business issues are presented;
(j) actions for violation of or interference with noncompete, nonsolicitation, and/or confidentiality agreements, except when pendent or incidental to matters listed in Section 2.1(c) above and sufficiently complex business issues are presented;
(k) commercial … contract construction disputes and/or commercial … construction defect claims; and
(l) cases involving violations of the Tennessee Consumer Protection Act.
COMPARISON WITH OTHER STATES BUSINESS COURT JURISDICTIONAL CASE TYPES
It is interesting to compare Tennessee's set of jurisdictional case types to some other courts using the case type method to define jurisdiction.  The sometimes subtle differences demonstrate how different jurisdictions view certain types of actions and where lines should be drawn. For example, Tennessee appears to exclude business based professional malpractice claims, where the business courts below would include such claims.  Still, the overlap of commonly recognized case types designated within each business court's jurisdiction is much greater than the differences.
We give two examples below, though there are many more business courts with their own case type lists that can be found in the US Court Links section of this Blog.
Massachusetts' Business Litigation Session
In Boston's Business Litigation Session, discussed yesterday on this Blog, "[c]ases that fall within any of the following categories may be accepted into the BLS in the sound discretion of the BLS Administrative Justice, based principally on the complexity of the case and the need for substantial case management:
a.1 claims relating to the governance and conduct of internal affairs of entities
a.2 claims relating to employment agreements
a.3 claims relating to liability of shareholders, directors, officers, partners, etc.
b.1 shareholder derivative claims
b.2 claims relating to or arising out of securities transactions
c.1 claims involving mergers, consolidations, sales of assets, issuance of debt, equity and like interests
d.1 claims to determine the use or status of, or claims involving, intellectual property
d.2 claims to determine the use or status of, or claims involving, confidential, proprietary or trade secret information
d.3 claims to determine the use or status of, or claims involving, restrictive covenants
e.1 claims involving breaches of contract or fiduciary duties, fraud, misrepresentation, business torts or other violations involving business relationships
f.1 claims under the U.C.C. involving complex issues
g.1 claims arising from transactions with banks, investment bankers and financial advisers, brokerage firms, mutual and money funds
h.1 claims for violation of antitrust or other trade regulation laws, including class actions
h.2 claims of unfair trade practices involving complex issues, including class actions that do not involve personal injury
i.1 professional malpractice claims other than claims for personal injury or death
j.1 claims by or against a business enterprise to which a government entity is a party
k.1 other claims involving complex issues or that require close case management, including but not limited to insurance coverage or reinsurance, construction, commercial lease disputes, real estate and consumer matters.
Philadelphia's Commerce Court
Philadelphia's Commerce Court jurisdiction is mandatory, rather than discretionary, for the following case types:
a. Actions relating to the internal affairs or governance, dissolution or liquidation, rights or obligations between or among owners (shareholders, partners, members), or liability or indemnity of managers (officers, directors, managers, trustees, or members or partners functioning as managers) of business corporations, partnerships, limited partnerships, limited liability companies or partnerships, professional associations, business trusts, joint ventures or other business enterprises, including but not limited to any actions involving interpretation of the rights or obligations under the organic law (e.g., Pa. Business Corporation Law), articles of incorporation, by-laws or agreements governing such enterprises;
b. Disputes between or among two or more business enterprises relating to transactions, business relationships or contracts between or among the business enterprises. Examples of such transactions, relationships and contracts include:
(1) Uniform Commercial Code transactions;
(2) Purchases or sales of businesses or the assets of businesses;
(3) Sales of goods or services by or to business enterprises;
(4) Non-consumer bank or brokerage accounts, including loan, deposit cash management and investment accounts;
(5) Surety bonds;
(6) Purchases or sales or leases of, or security interests in, commercial, real or personal property; and
(7) Franchisor/franchisee relationships.
c. Actions relating to trade secret or non-compete agreements;
d. "Business torts," such as claims of unfair competition, or interference with contractual relations or prospective contractual relations;
e. Actions relating to intellectual property disputes;
f. Actions relating to securities, or relating to or arising under the Pennsylvania Securities Act;
g. Derivative actions and class actions based on claims otherwise falling within these ten types, such as shareholder class actions, but not including consumer class actions, personal injury class actions, and products liability class actions;
h. Actions relating to corporate trust affairs;
i. Declaratory judgment actions brought by insurers, and coverage dispute and bad faith claims brought by insureds where the dispute arises from a business or commercial insurance policy, such as a Comprehensive General Liability policy, and;
j. Third-party indemnification claims against insurance companies where the subject insurance policy is a business or commercial policy and where the underlying dispute would otherwise be assigned to the Commerce Program, not including claims where the underlying dispute is principally a personal injury claim.
The Commerce Court further clarifies whether business disputes within its jurisdiction can include individuals:
"All of the above types of actions may involve individuals named as parties, so long as all other criteria are met and the essential nature of the litigation is a business dispute. For example, a dispute over a commercial loan may include individual guarantors as either plaintiffs or defendants, as the case may be, but such a lawsuit would still be a commercial dispute."
In listing excluded case types, the Philadelphia program clarifies another category of cases that are subject to the Commerce Court' s jurisdiction, i.e., business related professional malpractice claims:
"Malpractice claims, other than those brought by business enterprises against attorneys, accountants, architects or other professionals in connection with the rendering of professional services to the business enterprise."
For a basic discussion of business court jurisdiction models, see A History of the Creation and Jurisdiction of Business Courts in the Last Decade.
Posted by Lee Applebaum